Of Clean Labels and Half Truths Part-1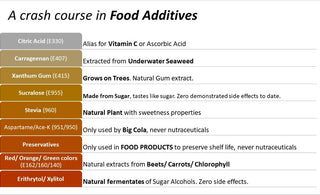 There's a new wave in the D2C food market and it's called CLEAN LABEL. Given all the noise about this new phenomena, let's deconstruct the concept.
BIG BRAND = BIGGER SCRUTINY
The bigger a brand gets, the more it is under public and legal scrutiny. That explains the high compliance levels of large main stream brands (
Unilever
Procter & Gamble
Marico Limited
ITC Limited
Dabur India Limited
 etc.). Small D2C brands on the other hand, tend to escape the regulatory radar and this oftentimes leads to unsubstantiated and gimmicky label claims.
While that's fine whereas shoes, bags, cosmetics are concerned, it's a problem when it comes to food, since food goes inside you, not on you.
Let's take the case of the latest 'CLEAN LABEL' craze. Every nutraceutical/food brand now contains one or more of the following claims-
- All Natural
- Real ingredients
- 100% Clean label
- Nothing artificial
- No chemicals
- No preservatives
- No ADDED sugar
- Made with only 4-5 ingredients
Let's break this down and analyze what exactly are these so called 'artificial chemicals/ingredients' which are being purported as harmful by some marketeers
(SEE GRAPHIC).
As you will realize, food additives are nothing but functional ingredients and in most cases, extracts of food itself. They possess properties to improve the taste & texture of packaged food. There is absolutely nothing insidious or natively harmful about having them in your food product at GMP levels. Heck I'm worse off with that pesticide-laden broccoli salad or sugar-loaded Dates bar!
FRONT OF PACK
Vilifying large brands has now become fashionable and mission-driven to some extent. E.g Maggi, Cadburys, Bournvita.
There's again more to this than meets the eye. Having worked in R&D and Nutra manufacturing for close to a decade, I can tell you the extent to which the large brands go just to meet/exceed compliance and safety.
The decision NOT to list ingredients at the front-of-pack for example, is a simple DESIGN DECISION. It has nothing to do with concealing ingredients. Similar to why I wouldn't wear my T-shirt inside-out or my pants upside-down (unless I want to make a statement and stand-out!)
The Front-of-Pack is conventionally for displaying the product name, USPs, functions etc.. while the back-of-pack is for listing out nutritional panels, declarations, ingredients etc.. It has nothing to do with the conspiracy theory that food marketeers are trying to conceal something. After all, how difficult is it to simply flip the pack and read the ingredients?
The 3 ingredient CHICKEN MASALA
Here's my CLEAN LABEL recipe to make Chicken Masala:
1. Chicken
2. Onions
3. Tomatoes
No masalas, no condiments, no seasonings, no garnish, no ghee/oil, no ginger/garlic, nothing. Now I'm going to name it CLEAN CHICKEN MASALA. Get the picture?