Evolution of Protein Supplements in India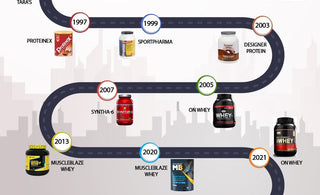 Its been an interesting journey for protein supplements in India. Here's what the evolutionary timeline looks like:
Early 1990s- Bull worker & Tara's (primarily sucrose and milk powder)
Late 90's- Protinex, Protinules and other OTC proteins (groundnut protein + sucrose and maltodextrin)
2000- 2005- Imported Whey supplements (High lactose, highly indigestible)
2005- 2010- Better quality Protein supplements (imported)
2010 – 2015- Good quality imported protein supplements & Poor quality Indian protein supplements (low manufacturing standards)
2015 – 2020- Import barriers on imported brands led to proliferation of Indian brands
2020 & Beyond- Dozens of Indian Protein brands
Drivers
The West has been cozying up to the idea of supplements for a while now, but India has only recently started witnessing rapid growth. So what's fueling this protein craze in India:
1.  Pandemic- Survival of the fittest. Fitness came centrestage.
2.  Dispensation of Myths- misconceptions about protein are now largely taken care of thanks to the good work of top class experts & educators like 
Kaizzad Capadia
Luke Coutinho
3.  Social acceptance- Protein consumption is now commonplace in urban households and not considered unnatural or performance enhancing in nature
4. Demographic expansion- Protein has moved from the gym to the kitchen. Importance has been culturally recognized.
5. Accessibility- Easy availability in both online and offline channels with a large variety to choose form.
6. Affordability- Competition brings downward pressure on pricing. Different sizes and price ranges for different budgets.
7. Form factors- Protein has moved from gym powders to snacks and food formats. Bars, cookies, chips, nuggets you name it and the protein claim is now ubiquitous on most labels.
Pain Points
Duplicacy, Non-compliance and Customer Confusion remain the leading pain points for the category. Most domestic brands tend to over-exaggerate their marketing claims, while genuine products are still hard to come by in certain parts of the country (primarily Tier 2 & 3).
Confusion is still rampant for new users to the category in terms of which product is the right fit for them.
Future
As Indians take to sport and fitness with a new found zeal, protein supplements are increasingly becoming standard part of the monthly shopping list.
#protein
#proteinsupplements
#sportsnutrition
#nutraceuticals
#performancenutrition
Neulife Nutrition
#neulife