Pre-Workout Combo Buy 1 Get 1 Free 300g x 2 (Lemon-lime + Lemon IceTea)
High strength vasodilation: 6.0g VASO BLEND comprising equal parts Fermented L-Citrulline and Fermented L-Arginine HCL to boost NO production for High strength vasodilation
Improved focus with Nootropics:1.5g of Phosphatidylcholine for optimal brain function.
1.5g Acetyl-L-Carnitine, for improved cellular energy production leading to enhanced memory, focus and mood. 1.5g of L-Tyrosine to boost levels of neurotransmitters such as dopamine, adrenaline and noradrenaline.
276mg of Caffeine salts from two sources for enhanced CNS stimulation and quicker reaction time.
Quicker recovery: 1.5g adaptogenic complex relieves cellular stress, fights inflammation and helps speed up recovery.
1000mg of Mucuna Pruriens with high levels of L-DOPA, Epinephrine and Noradrenaline, the precursors to Dopamine which drives motivation, pleasure and emotions.
read more
Nutrition Information
Payment Info

Easy 7 days Return/Exchange Policy
Free Delivery
Inclusive of all taxes
Secure Transaction
Easy EMI Option Available.
Offers you can't Ignore

Free shipping on All Pre-paid orders

10% extra off on your 1st Purchase. Code MYFIRST

5% extra off on Order Value above 10k. Code Super10K

Buy any 2 products, and get the 3rd product at 5% extra off. Use code 3some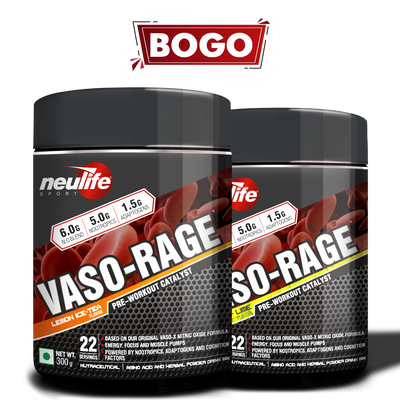 Pre-Workout Combo Buy 1 Get 1 Free 300g x 2 (Lemon-lime + Lemon IceTea)