Vaso-X Time Release Nitric Oxide Booster for Muscle Pumps
2 reviews
The longest lasting pre-workout for elite athletes

More N.O, More Power for Longer: High strength vasodilation complex for whole-body Nitric Oxide production. Fast-Medium-Slow approach to N.O release for high N.O levels that lasts several hours.
One-of-a-kind Oxystorm formulation: Made with Fermented Citrulline, Fermented L-Arginine-HCL and Oxystorm® in supraphysical dosages to maximize the nitric oxide produced within the body.
More blood flow-More muscle pumps: Improves nutrient transport and oxygenation.
read more
Designed for
Bodybuilders
Increased Blood flow
Male Sexual Health
Key features
3.0G Arginine
3.0G Citrulline
2.0G Oxystorm®
Nutrition Information
Payment Info

Easy 7 days Return/Exchange Policy
Free Delivery
Inclusive of all taxes
Secure Transaction
Easy EMI Option Available.
Offers you can't Ignore

Free shipping on All Pre-paid orders

10% extra off on your 1st Purchase. Code MYFIRST

5% extra off on Order Value above 10k. Code Super10K

Buy any 2 products, and get the 3rd product at 5% extra off. Use code 3some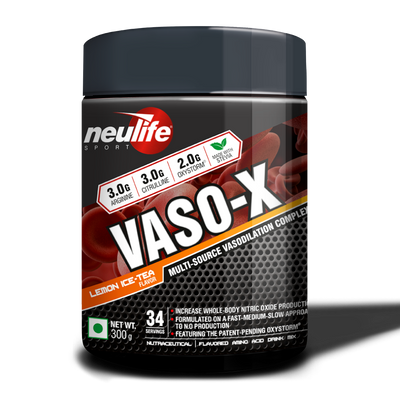 Vaso-X Time Release Nitric Oxide Booster for Muscle Pumps