Amazing Greens | Detox Superfood for Immunity
4 reviews
10 Super Detoxifying ingredients: Blend of 10 Organic Whole Greens including Moringa, Matcha, Chlorella, Spirullina, Giloy, Alfa-Alfa, Spinach, Barley-Grass, Carrot and Tomato.
Measurable antioxidant benefits: At 3000 ORAC, it's the only Greens product which comes with a measured ORAC capacity of 3000 micro.moles for measurable antioxidant benefits.
Detox, Immunity & Gut health: Each scoop of AMAZING GREENS®️ is equivalent to the goodness of 6 servings of fruits/veggies. It provides your body with the full spectrum of antioxidants, phytonutrients and natural vitamins for healthy aging, immunity, digestive health, and body detox.
Tested & Guaranteed: Organically certified raw materials by USDA and EcoCert.
read more
Designed for
Detox
Gut health
Immunity
Key features
ORAC
10 Greens
0 Fillers
Nutrition Information
Payment Info

Easy 7 days Return/Exchange Policy
Free Delivery
Inclusive of all taxes
Secure Transaction
Easy EMI Option Available.
Offers you can't Ignore

Free shipping on All Pre-paid orders

10% extra off on your 1st Purchase. Code MYFIRST

5% extra off on Order Value above 10k. Code Super10K

Buy any 2 products, and get the 3rd product at 5% extra off. Use code 3some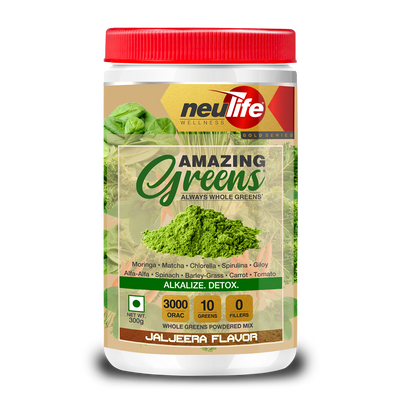 Amazing Greens | Detox Superfood for Immunity