Ketofuel® Original MCT Powder | Non-dairy Creamer | U.S Patented
4 reviews
Clean energy for fat loss and enhanced performance: Quick energy release with C8 CAPRYLIC ACID & C10 Capric Acid in Ketofuel MCT. C8 Caprylic Acid is superior to regular MCT oil for its quicker energy release compared to other MCFA's.
MCT Oil + Coconut Oil combo: A perfect blend of MCT Oil + Coconut Oil in 1:1 ratio to improve mental clarity, give instant energy, ketogenic benefits of MCTs and anti-inflammatory, antiaging and heart-healthy effects of Coconut Oil.
US Patented Ketofuel® MCTs: Induces deep ketosis. While MCTs help in fat metabolism and mental clarity, Coconut oil helps reduce cellular inflammation and stimulates fat burning.
Tasty & Healthy Recipes: Ketofuel® Coconut powder adds nutrition as well as tasty twist to Protein shakes, hot beverages like tea or coffee, or even cold liquids to boost its healthy fat content.
read more
Designed for
Non-dairy Creamer
Carb-free Flours Almond/ Maida replacer
Baking/ Cooking
Key features
Boost Cognition
Go Carb-free
Add to Anything
Nutrition Information
Payment Info

Easy 7 days Return/Exchange Policy
Free Delivery
Inclusive of all taxes
Secure Transaction
Easy EMI Option Available.
Offers you can't Ignore

Free shipping on All Pre-paid orders

10% extra off on your 1st Purchase. Code MYFIRST

5% extra off on Order Value above 10k. Code Super10K

Buy any 2 products, and get the 3rd product at 5% extra off. Use code 3some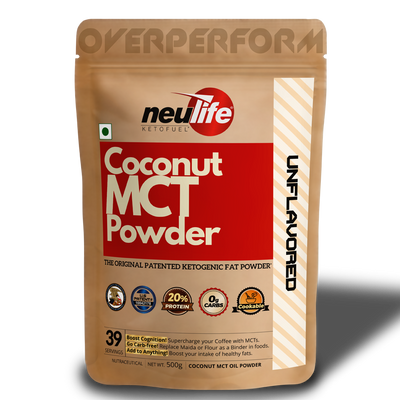 Ketofuel® Original MCT Powder | Non-dairy Creamer | U.S Patented