Ketofuel® Coffee Hot Brew with MCT Super-Fats | Espresso Roast
3 reviews
The
 

Original Brain-boosting Coffee with U.S Patented MCTs
Patented MCTs, Engineered for Performance: US PATENTED # 10842178 KETOFUEL MCTs help reduce cellular inflammation and stimulate fat burning. MCTs boost energy by lowering lactate buildup during workouts.
Premium MCT Coffee: Delectable blend of Medium Roast Arabica from Chikmagalur, Coconut oil & MCT oils. Tastes like premium coffee but fuels you for a whole day!
Brain fuel & Inflammation fighter: MCTs along with your coffee may increase brain energy by 8 to 9% turning your morning coffee into Brain fuel! Ketofuel Coffee has healthy fats and coconut Oil contains Antioxidants that help with Cellular Inflammation.
Weight Management: The precise blend of MCTs and coffee quickly metabolizes to ketone energy managing weight while supporting the body's metabolism as well.
read more
Designed for
Pre-Workout
Work/ Study
Travelers
Key features
Fat Burning
Brain Fuel MCTs
Superior Taste
Nutrition Information
Payment Info

Easy 7 days Return/Exchange Policy
Free Delivery
Inclusive of all taxes
Secure Transaction
Easy EMI Option Available.
Offers you can't Ignore

Free shipping on All Pre-paid orders

10% extra off on your 1st Purchase. Code MYFIRST

5% extra off on Order Value above 10k. Code Super10K

Buy any 2 products, and get the 3rd product at 5% extra off. Use code 3some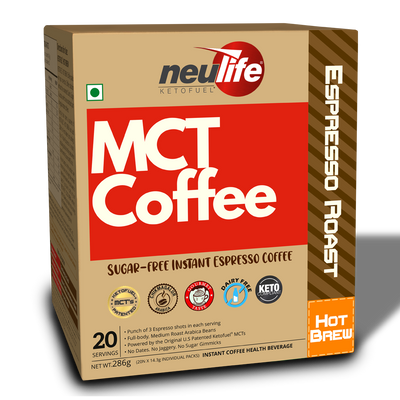 Ketofuel® Coffee Hot Brew with MCT Super-Fats | Espresso Roast