Triple-Calcium with Vitamins K2, D3 & Zinc
8 reviews
Multi-source Calcium (3X action): A clinically developed matrix of Calcium Citrate Malate (CCM) with Calcium Bis-glycinate and Di-Calcium Phosphate for up to 42% more bioavailability as found in initial trials.
Superior Bone Mass builder: Calcium supplementation is essential for maintaining and increasing bone density.
With Vitamin K2(MK-7): K2 is a essential co-factor which plays a pivotal role in depositing Calcium ions to the bone sites for osteoblastic activity.
And Vitamin D3: D3 deficiency is currently rampant, despite exposure to sunlight. Vitamin D3 helps maintain blood calcium and phosphorus levels and mineralization of bone.
Added Zinc, Phosphorus & Magnesium: Zinc, Phosphorus and Magnesium complete this comprehensive bone-builder for unparalleled Bone Support.
read more
Designed for
Bone-mass building
Reduce risk of bone fractures
Bone Health
Key features
Calcium
MK-7
Vitamin D3
Nutrition Information
Payment Info

Easy 7 days Return/Exchange Policy
Free Delivery
Inclusive of all taxes
Secure Transaction
Easy EMI Option Available.
Offers you can't Ignore

Free shipping on All Pre-paid orders

10% extra off on your 1st Purchase. Code MYFIRST

5% extra off on Order Value above 10k. Code Super10K

Buy any 2 products, and get the 3rd product at 5% extra off. Use code 3some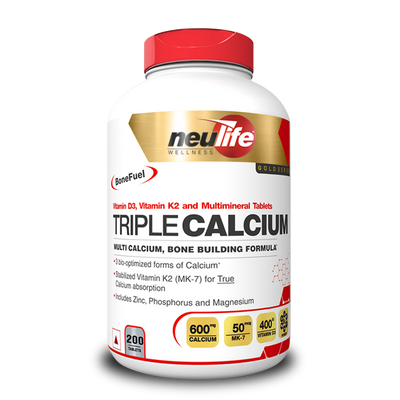 Triple-Calcium with Vitamins K2, D3 & Zinc