Beta-Leucine BCAA with 4X Leucine & Beta-alanine
2 reviews
Enhanced Muscle building: 7g of Fermented Leucine to ignite protein synthesis which helps build new muscle tissue.
Longer workouts-Delayed fatigue: 3g Beta-alanine per serving to buffer lactic acid and reduce muscle acidity.
First-of-its-kind Non-Gluconeogenic formula: Custom-designed advanced BCAA fuel for Ketogenic Athletes and Elite athletes. Over 13g of actives per serving including L-Leucine, Beta-alanine, Coconut Powder, Electrolytes & Hydration Salts.
read more
Designed for
Endurance Athletes
Crossfit/MMA
Weight Training
Key features
7G Leucine
3G Beta-Alanine
Electrolytes
Nutrition Information
Payment Info

Easy 7 days Return/Exchange Policy
Free Delivery
Inclusive of all taxes
Secure Transaction
Easy EMI Option Available.
Offers you can't Ignore

Free shipping on All Pre-paid orders

10% extra off on your 1st Purchase. Code MYFIRST

5% extra off on Order Value above 10k. Code Super10K

Buy any 2 products, and get the 3rd product at 5% extra off. Use code 3some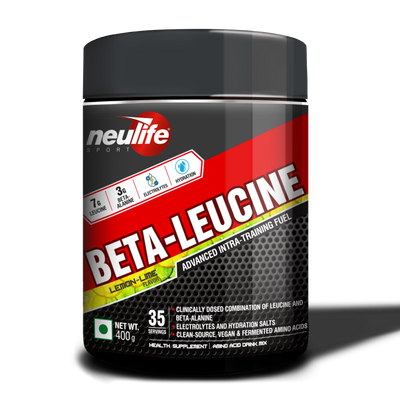 Beta-Leucine BCAA with 4X Leucine & Beta-alanine