Daily-Multi Gold Advanced Multivitamin with MK-7, Adaptogens, Antioxidants & Natural Extracts
7 reviews
Gold Standard Multivitamin for Antiaging, Cellular protection, C
ardiovascular and Bone health benefits.
Adaptogens & Vitamins for whole body protection: Featuring Ashwagandha, Mucuna and Ginseng with fully dosed Vitamin K2, Vegan Vitamin D3 from lichens and powerful antioxidants like Lutein, Lycopene and Beta-Carotene in addition to 100% RDA of 24 essential Vitamins and Minerals.
Healthy Heart & Bones: The first Vitamin to include Vitamin K2 (MK-7) & high BV Magnesium for unparalleled cardiovascular and bone health benefits.
Complete Cell Protection: The Power of 24 Essential Vitamins, Minerals & Antioxidants to Provide 360⁰ Cell Protection.
Powerful Antioxidants: Contains Lutein 10 % and lycopene 10 % two highly effective antioxidants with significant health benefits.
Immunity Booster: Perfect immunity balance with Vitamins C, E, A, D, folate, iron, selenium, zinc, etc. to help you immunize and support overall well-being.
read more
Designed for
360° Cell Protection
Bone Health
Skin Health
Key features
Per Serving
Immunity Support
Stress Adaptation
Nutrition Information
Payment Info

Easy 7 days Return/Exchange Policy
Free Delivery
Inclusive of all taxes
Secure Transaction
Easy EMI Option Available.
Offers you can't Ignore

Free shipping on All Pre-paid orders

10% extra off on your 1st Purchase. Code MYFIRST

5% extra off on Order Value above 10k. Code Super10K

Buy any 2 products, and get the 3rd product at 5% extra off. Use code 3some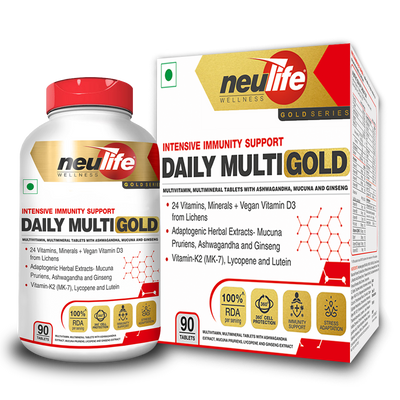 Daily-Multi Gold Advanced Multivitamin with MK-7, Adaptogens, Antioxidants & Natural Extracts