Vitamin C 500+ Immunity boosting Supertab
2 reviews

Formulated with Real Vitamin C, 1000IU D3 & Zinc. 
Real Vitamin C: Formulated with 500mg of Real vitamin C (pure Ascorbic acid) per tablet and not Amla Extract.
Total antioxidant protection: A complete 3-in-1 formula in a clean, unflavored, unsweetened tablet for total antioxidant protection. Simply add it to your existing 100% RDA based multivitamin as an immunity top-up.
Gold standard Vit C: While many products claim 1000mg of Vitamin C, you will find that the 1000mg is NOT actually ascorbic acid BUT entirely Amla extract which is less than 2% by weight of real Vitamin C (ascorbic acid).
Supports Bone, Skin and Immune health: Vitamin C is the most powerful antioxidant which helps fight off free radicals and build immunity while Vitamin D3 is a key component of structural membranes and supports. By combining 100% RDA of Zinc with the above 2 powerful Vitamins, Neulife's Vitamin C 500+ Complex provides you with a Total Immunity Solution in a single Once-A-Day SUPER-TAB.
read more
Designed for
Immunity booster
Glowing Skin
Bone Health
Key features
Antioxidant
High Strength
Real Vitamins
Nutrition Information
Payment Info

Easy 7 days Return/Exchange Policy
Free Delivery
Inclusive of all taxes
Secure Transaction
Easy EMI Option Available.
Offers you can't Ignore

Free shipping on All Pre-paid orders

10% extra off on your 1st Purchase. Code MYFIRST

5% extra off on Order Value above 10k. Code Super10K

Buy any 2 products, and get the 3rd product at 5% extra off. Use code 3some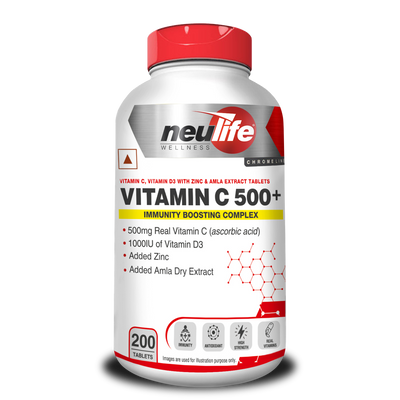 Vitamin C 500+ Immunity boosting Supertab